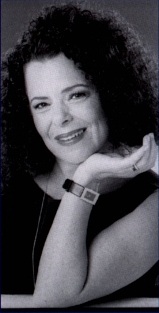 I come from a theatrical family; my mother Dolly is an actor, director, and playwright and my father, Gene regaled patrons in "Gino's", his Philadelphia restaurant, with his beautiful baritone voice. My sister Laurie became a Broadway star. She appeared in Annie, The Pirates of Penzance, Cats, Les Miserables and was nominated for a Tony award for her performance as the Narrator in Joseph and the Amazing Technicolor Dreamcoat. In 1998, she died of ovarian cancer.

I began my musical career at the age of fourteen as a folksinger, accompanying myself on guitar and singing in coffeehouses in South Jersey and Philadelphia. My earliest musical inspirations were Joan Baez and Judy Collins. On Saturdays, I took the bus (there was no Speed Line yet) from Collingswood, NJ to Philadelphia to study opera with my father's teacher. When I got home, I put away the arias, lieder and Italian art songs and practiced the guitar, but I still use the vocalises (voice exercises) that my teacher so elegantly handwrote in the little spiral music book forty years ago. They are worth their weight in gold!

I went on to receive a B.A. in French from Rutgers University. I also obtained a teaching certificate in my senior year and discovered that I loved teaching. I attended McGill U.'s French summer program in Montreal between my sophomore and junior years, where I took a course in Moliere and "le francais vivant par l'action dramatique"-- living French through acting. This was a milestone; I loved saying my lines in French. I decided to move to Paris after graduation where I studied acting at the Theatre Ecole Tania Balachova. She was a well-known stage and film actress in France. While I was home for a visit, my father gave me the Edith Piaf Deluxe Set record album; one listen was enough—I knew I had to sing French songs.

I learned the guitar accompaniment to Edith Piaf songs and began singing them in Philadelphia clubs and cafes. I made several television appearances. One night, I was singing in a restaurant where I met an actor from Canada who asked me to do the lead female role in Jacques Brel is Alive and Well and Living in Paris the following summer. I agreed. In rehearsal, I found that I had a lot to learn. Singing the songs came naturally to me, but I was used to hiding behind my guitar. I had to learn how to move on stage.

When I finished my stint in Toronto, I again returned to Philadelphia. I continued to perform regularly and expanded my repertoire of French songs with a piano accompanist. I again began appearing around Philadelphia, performing at the Commissary Piano Bar, Barclay Hotel, and other cabaret venues, as well as doing several benefit concerts. I also sang with a Middle Eastern band at a fantastic club on South Street called Cafe Yaas. ..There was an acccordionist, a guitarist, an oud player and a bazuki player. The musicians taught me to sing in Greek, Turkish, and Hebrew.

My husband, Barry, who has always been tremendously supportive of my work and I put together a recital format that combines elements of show business and academe, with songs that run the gamut from Piaf to Poulenc, including personal, historical, and sometimes humorous commentary on the place of each song in the history of French popular music. I've presented this concert repertoire (in many settings), including the Cosmopolitan Club (for the Alliance Française), Chestnut Hill College, the Meadowbrook School, the University of Pennsylvania, the Philadelphia Museum of Art, Philadelphia Community College and Montgomery County Community College. I also participated in a benefit concert at Lincoln Center and the Marriott Marquis Hotel in New York. During this time, I gave birth to two sons, Beryl and Reid, who are now twenty-four and twenty-one.

I continue to refine my cabaret repertoire. Both my 1994 recording, Parlez-moi d'amour, and my 1999 CD, Souvenirs de Paris, include songs of Edith Piaf, Charles Trenet, Jacques Brel, and other French composers. In 1996, I joined my sister, for a duet of Brel's "If We Only Have Love" on Laurie's last album, No One is Alone. In January, 2003, I released my latest CD, The Grand Legrand, a compilation of songs by the prolific French composer Michel Legrand. I had the pleasure of presenting a copy to the great man himself, when he appeared at The Regency Hotel in New York a few months after the CD was released. I've appeared as a cabaret singer at the Philadelphia Museum of Art, Act II Playhouse, Odette's Cabaret and Triad in New York.

In June 2001 I went to Eastbourne, a seaside resort town on the English Channel, to attend my uncle's memorial service. One morning, I walked down to the beach and watched the sun rise. I had an epiphany. (Something was telling me to leave my day job as a French teacher, which I had done for twenty-five years.) Something or someone was telling me to try my hand at writing. I took an early retirement, signed up for a poetry course and started to keep a journal with the help of Julia Cameron's Morning Pages. I submitted three poems and one of them was published by Bucks County Writer Magazine. My essays have appeared in the Philadelphia Inquirer and The Charlotte Observer. In the summer of 2004, I met a composer and jazz pianist at a block party. He set "The Armoire" a poem I wrote in French and English to music. We recorded it and I'm happy to say that WXPN, the University of Pennsylvania's radio station has given it and the Legrand CD a decent amount of airplay.

Recently, I've performed with a group called The Hot Club of Philadelphia. They play the music of the gypsy guitarist Django Reinhardt and French jazz violinist Stephane Grappelli. We've done two gigs at the Sellersville Theatre in Bucks County, PA.

What's next? I'd like to write a one-woman show based on my life.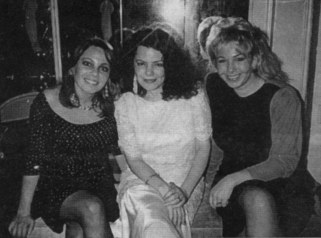 This page last updated: July 31, 2005
Contact Claudia or the webmaster with any questions or comments.