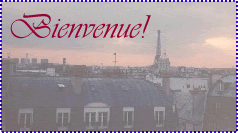 Welcome to Souvenirs et Espoirs, the official website with information on the singing and writing of Claudia Beechman!
Within these pages, you will find information on Claudia's wonderful CDs, Souvenirs de Paris and The Grand Legrand including select sound clips. This is also the place to check for details regarding Claudia's upcoming performances.
Click here for information on Claudia's latest brand new release, The Grand Legrand.
Be sure to check out the Winter 2008 issue of Cape May Magazine which includes "A Day in the Life of Claudia", a memoir written by Claudia.
In addition to being a singer, Claudia is also a writer. She is a published poet, essayist and lyricist.
Read some of her works:



Contact Claudia
Thanks for dropping by and before you leave, please be sure to sign the guestbook!
CLAUDIA BEECHMAN: Souvenirs de Paris

Chanteuse Claudia Beechman sings an assortment of classics by some of the greatest French songwriters of the 20th century, mostly in French with piano and cello accompaniment.


CLAUDIA BEECHMAN: The Grand Legrand

Cabaret classics of French composer Michel Legrand in French and English sung in a rich, dramatic mezzo-soprano, accompanied by piano and cello.


Last updated: March 24, 2019
Contact Claudia or the webmaster with any questions or comments.
The images on this site belong to either Claudia Beechman or to the webmaster (all graphics have been designed specifically for this site)- they may not be reprinted without first asking permission from the webmaster. Thank you!