Lately, I find I'm using what is happening in my life and in the world. I read the newspapers a lot. Unfortunately, you don't have to reach that far to get to the despair in this world, and also to the hope that is always there, too. I kind of do the song now like a prayer.
-Laurie Beechman, about singing "Memory", as quoted in The New York Times, 1985


broadway
regional
u.s. tours
Cats- First National Tour




role: Grizabella
when: 1983
where: Boston, MA
other: Laurie opened the First National Tour as Grizabella- she played the role only in Boston before moving to Broadway. Laurie received the Boston Critic's Circle Award for this performance.

Les Misérables- First and Third National Tours




role: Fantine
when: 1990 (First National Tour); 1996 (Third National Tour)
where: Philadelphia, PA
other: Laurie twice reprised her Broadway role of Fantine for limited run during the Philadelphia engagements of the Les Misérables touring companies.

The Music of Andrew Lloyd Webber




role: soloist
when: 1992; 1995-1996
other: Laurie was featured as a guest soloist during the Radio City Music Hall engagement only of the 1992 tour. She also starred in a new touring version in 1995/96.

On singing Lloyd Webber's music, Laurie commented:

"It soars. There's really an incredibly powerful payoff emotionally and musically. I think it's very intense and responsive. He really knows how to pull the heart strings. . . It's a thrill. The audience is so receptive. They love his music, and there you are. You're the messenger and you're bringing good news. For me, vocally, it's so natural."
(-Laurie Beechman, quoted in the Sarasota Herald-Tribune, 1/5/96)
misc.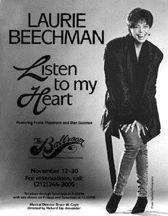 Early in her career, Laurie appeared in the film version of the musical, Hair. In later years, she was an accomplished cabaret performer, headlining at venues which included Rainbow and Stars, The Ballroom, The Russian Tea Room, and Maxim's. Laurie's July 1996 Rainbow and Stars act with Sam Harris went on to win a MAC (Manhattan Association of Cabarets & Clubs) award.
Laurie frequently donated her time to perform at various benefits. She was the sole entertainer selected by Andrew Lloyd Webber to perform for Margaret Thatcher's 70th birthday celebration in D.C. in October 1995. In January 1997, Laurie returned to D.C. to sing at the Presidential Inaugural Gala, which was broadcast on National TV. After singing "You'll Never Walk Alone," she also had the honor of introducing President Bill Clinton.